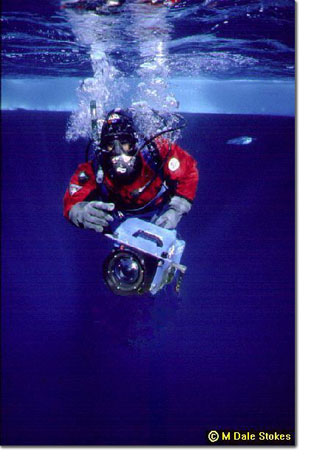 Above and Beneath the Ice Shelf in HD
Excerpted from Television Broadcast magazine

Does the thought of diving in the chilly waters or trudging across the brutally cold and desolate terrain of Antarctica send shivers down your spine?

Imagine spending four and a half months in that climate shooting footage for a television program. That's exactly what world-renowned hotographer Norbert Wu and his crew accomplished -- in high-definition. At 14.25 million square miles, Antarctica, the fifth-largest continent, is unquestionably the most isolated. With approximately 1200 year-round residents stationed at scientific research bases scattered throughout portions of the icy continent, Antarctica is truly the final frontier. However, while the human population is minimal, the marine life is dynamic and extensive.

Just ask Wu, who recently spent October 1999 through February 2000 in Antarctica with a revolving crew of three to four members to shoot the video for Under Antarctic Ice, an upcoming Thirteen/WNET New York's Nature program. The program is scheduled for broadcast on PBS stations in Autumn 2001. The crew worked out of the United States base at McMurdo Station under a National Science Foundation Office of Polar Programs Artists and Writers Grant. McMurdo Station is located on Ross Island near the coast of McMurdo Sound, geographically parallel to New Zealand. The crew will return to the continent next austral spring and summer to complete the shoot.

Wu and his crew teamed up to shoot Antarctica marine life both underwater and on land in a high-definition 1080i format. What is unique about this shoot is this was the first time that HDTV technology has been used in an environment as extreme as Antarctica, which Wu calls the "coldest, windiest, harshest and most remote continent in the world." "This is probably the first film that has documented the benthic community of deep Antarctica this thoroughly," said Wu.

For the underwater shoots, Wu used Sony HDCAM HDW700A cameras with two Fujinon HA 10x5.2BERD lenses, one of which was loaned by Fujinon. The underwater housings, made from aluminum, were developed by Vincent Pace, president of Pace Technologies, who worked closely with Fujinon to create the underwater camera housings.

According to Pace, his company has chosen to design its underwater housings around Fujinon lenses "because they are the most popular choice for underwater use among cinematographers." "When you develop the housing, you have to match the optics of the dome to whatever lens you are using," said Wu. Since Pace's housings are designed around Fujinon lens optics, along with the strong popularity of Fujinon lenses in underwater shooting among cinematographers, Wu's decision to use Fujinon lenses underwater was clear from the start.

Wu captured a wide variety of marine life during his underwater expedition, including orcas, minke whales, seals, penguins and various species of fish. For Wu, shooting video was a different approach, and he is pleased with the results.

"I am a film guy. I am not used to zooms underwater," said Wu. "The Fujinon lenses offered great depth of field and a fast lens in low light conditions. I was very happy with their speed and sharpness, and I liked being able to zoom. I am a video guy now."

For underwater lighting, Wu used portable HID (High Intensity Discharge) lights from Light and Motion. Wu also had 1300 watt PAR 36 surface supply lights which he normally uses for his film shoots in brighter locations such as California waters and the tropics. "In Antarctica, we had less need for such powerful lights since the ambient lighting was so low, " says Wu. "This was another benefit of the HDCAMs -- we were pushing them to their limit, using gains of 6 to 12 db during shooting in order to bring out ambient light under the ice. As a comparison, my still photographs normally required exposures of 4 to 8 seconds to bring out ambient light. The HDCAMs picked up this very dark environment well."

On land, Wu and his crew used two different Canon high-definition lenses on the Sony HDCAM HD700A cameras: one HJ18x7.8B and one HJ9x5.5B HD-IF. Canon, a sponsor of Thirteen/WNET New York's Nature series, loaned the lenses for Wu to capture topside scenes for the program. Wu also used the Canon lenses for aerial shots in the final weeks of the shoot, as he and his crew photographed orcas and minke whales entering the ice leads in McMurdo Sound that typically open up that time of year.

Early on in the project, a typical day for Wu and his crew involved having the gear ready to go by 8 a.m. and piling it into a track vehicle called a Spryte, which was driven out to a dive site on the sea ice. After a few dives, they would wrap it up and head back to McMurdo station for dinner around 6 or 7 p.m. Later in the season when they took to the skies via helicopter, they had no set routine, often filming at night. In addition, they spent some time camping in the field and diving during the evening hours -- no small feat for human beings.

"The underwater part of things is not really as harsh as you might think," said Wu. "You might come out on land and it may be negative 40 degrees Fahrenheit and things will instantly freeze; your drysuit freezes up so you can barely move. But once you are underwater, since water can only get so cold before it freezes, it stays around 28 degrees Fahrenheit."

Post-production of Under Antarctic Ice is set to take place at the Thirteen/WNET studios in New York City. According to Wu, Thirteen/WNET New York recently purchased a high-definition editing suite as part of its mandate to output high-definition programming a couple years down the road. "They have really gone into high-definition full-throttle," said Wu, adding that he believes all the post will happen at the new editing suite.

As Wu prepares to head back to Antarctica for the final shoots, he looks forward to his return visit. A veteran of several months on the far-away continent, he has learned to adapt to the harsh climate. "You have to learn to deal with all the factors, specifically the cold and the wind," said Wu. "In addition, you have to deal with the fact you somehow have to get in the water, whether it's through a seal hole, by drilling through six feet of ice or by helicopter onto the edge of the ice. But Antarctica is great, and having been there before, I know what it is in store."