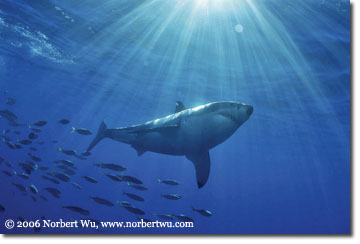 Thank you for your interest in obtaining a signed photograph from Norbert Wu. We do not carry an inventory of photographic prints, and therefore each photographic print is made individually upon receipt of your order. Our images are printed using a digital process (also called Iris or Giclee) using archival pigment inks and archival paper, and are the result of extensive in-house work to ensure that they are as true to the original as possible. Send us an email if you would like to order a print.

Our prints have been reviewed and acclaimed by the most professional of critics and audiences. Many of these images were originally prepared and printed for a traveling exhibit that toured several museums around the country, including the National Academy of Sciences, American Museum of Natural History, California Academy of Sciences, and the National Museum of Wildlife Art.

We do not frame or mount our prints. This is best done under your supervision at a professional framing establishment. Whoever does your framing should treat these prints as they would treat any archival print. Framers should not use heat on these prints to mount them as the heat may melt the prints. The prints are the highest grade, archival museum quality prints, rated to last between 60 to 70 years. All photographic prints should be kept out of direct sunlight.